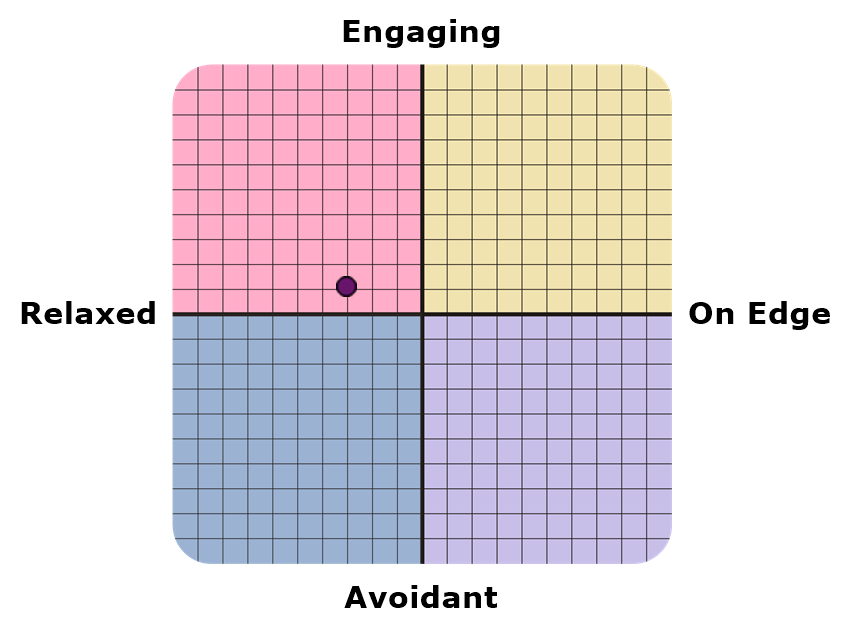 www.idrlabs.com/attachment-style/test.php
This is pretty accurate, I think. I'm on the Relaxed side of the spectrum but not very far, so I have some bits of On Edge anxiety. I'm also on the Engaging edge of the spectrum but just *
barely
*, so I have a lot of Avoidant traits too:
Relaxed-Engaging (Secure):
Relaxed-Engaging individuals tend to have good self-esteem and typically find it easy to share their feelings and opinions with others. They spend less time fretting and second-guessing themselves than individuals in the other three quadrants,
[all me]
and they generally find it easy to ask others for help or support when in need
[I do not find it easy to ask for help]
.
They are usually straightforward and trusting in their relations with others
[I am straightforward, but not always so trusting]
, and their usual state is one of being open, approachable, and relaxed
[I am open but I am not always perceived as "approachable" because some people find me intimidating, apparently]
. For this reason, they typically have fewer interpersonal defenses than others
[this is patently not me - I have tons of interpersonal defenses]
.
They naturally seek to connect with others while remaining realistic about the transformative power of intimate relationships: Relaxed-Engaging individuals don't expect to be swept off their feet, or to have their entire world turned upside-down by the arrival of some romantic savior or the like - they're already "comfortable in their own skin," so to speak. Instead, they seek to cultivate simple virtues, such as mutual trust and a sense of shared intimacy with others. They generally don't play games, but seek to establish uncomplicated and mutually beneficial relationships.
[This is definitely all me]
Relaxed-Avoidant (Dismissive):
Individuals in this quadrant often take a dim view of others, preferring to keep their distance and guard against invasions of their autonomy and privacy
[I am cynical and my experience has been that my autonomy will be violated repeatedly because the world experiences me as "woman", so life has made me "avoidant" in this sense]
.
Relaxed-Avoidant personalities tend to have a strong belief that others are too different from them for truly intimate relations to be worthwhile. They may have a spouse and family, and even be solidly anchored in a stable network of friends and acquaintances, but at the end of the day, they tend to avoid entering into relations where emotional interdependence and intimacy are required
[I do not avoid intimacy or emotional interdependence and in fact crave it, I just don't find it very often because people really *are* very different from me, at least in how we each perceive the world. It is because of the fact that I don't avoid these things that I keep finding how different I am from most people]
.
Unlike individuals who fall in the On Edge-Avoidant quadrant, Dismissive personalities tend to be quite content keeping their deepest feelings and views to themselves, and they often have a deeply-held belief that the opinions of others are mildly irrelevant or even second-rate
[Again, I don't keep my feelings and views to myself - I blast them from the rooftops, but I do tend to think that other people's opinions are basically irrelevant]
. Consequently, many Dismissive types are often quite good at dissimulating, that is, appearing to share their innermost thoughts, while in reality, they are simply appeasing others without ever letting them come close.
[Yep, not me at all. What you see is what you get]
Independent and proud of it
[me]
, these individuals can typically achieve remarkable feats of social manipulation and self-restraint
[funny, but every time I've tried to do this, in order to "better" a community, I've failed spectacularly]
, but on the downside, they may have trouble kicking bad habits (such as drinking or smoking) which they can enjoy in solitude and use to comfort themselves, independently of the company of others
[not me at all]
.
They can frequently be unmotivated or lazy with regard to the duties that others expect of them
[depends - if it's expected of me and I didn't agree to it, i.e. gender roles, I'm unmotivated to adhere, but if it's something I agreed to like working out with a friend, I'll stick to it better than if I didn't have their expectation to motivate me]
, but on the other hand, they are often very original (since they are not hindered by concerns about having to conform to the expectations of the group).
Finally, they also tend to be intelligent risk-takers, since they are at heart relaxed and cool under fire.
[yep, me]
The Horizontal Axis: Relaxed-On Edge
This axis pertains to the individual's root affection towards themselves. Roughly speaking, individuals who fall towards the Relaxed end of this axis appear self-sufficient, confident, and low in anxiety when engaged in social situations. In short, they give off the impression of being at ease with themselves.
[yep, me]
By contrast, individuals who fall towards the On Edge end of the spectrum tend to give off an impression of being more vulnerable or concerned than their Relaxed counterparts. In a nutshell, On Edge individuals feel a sense of unease about themselves whereas Relaxed individuals tend to be more at ease.
[this is accurate of my experience being Relaxed]
A complicating factor in the precise administration of this axis is that On Edge personalities have often learned to counteract their root uneasiness, for example by being intensely gregarious and charming, thus causing others to believe that they really are Relaxed (whereas in reality, they are overcompensating because they feel that if they did not, others would not notice them).
[Yep, this is not me, so being on the Relaxed side of the axis is accurate]
The Vertical Axis: Engaging-Avoidant
This axis pertains to the individual's root affection towards others. As a general rule, individuals who fall towards the Engaging end of the axis appear approachable, open-hearted, and open to forming relationships with others. In short, they give off the impression that one could easily become friends with them and form a relation where they will keep you in their thoughts.
[Depends - some people tell me that I appear approachable, open-hearted, that I'm a good listener, that they surprised themselves by confiding things in me they haven't told others, but some people say the opposite of me]
By contrast, individuals who fall towards the Avoidant end of the spectrum tend to give off an impression of independence, coldness, aloofness, and of being hard to approach.
[This is what the other people say of me, so it depends on the person and whether they associate "independence" with coldness and being hard to approach or whether they find "self-confidence" to be "indimidating"]
In essence, Avoidant individuals feel a sense of unease about others whereas Engaging individuals tend to have fewer fears about forming connections with others.
[This is why I'm on the Engaging side, but just barely. I don't feel unease or fear about connecting with others, I just don't often think it's worth trying when I can tell that we're very different people]
Avoidant individuals may give off the impression of being simply private or closed, but according to Attachment Style Theory, this demeanor is really an adaptation; a counterattack against their root feeling of uneasiness about others.
[And this is why I'm not Avoidant, but just barely. My closed-off-ness is a defense mechanism, but it's not in response to "unease". To me, it's like wearing a seatbelt - I'm playing the odds and choosing caution, that's all]
(Note that an Avoidant Attachment Style is not the same as an Avoidant Personality Style.)